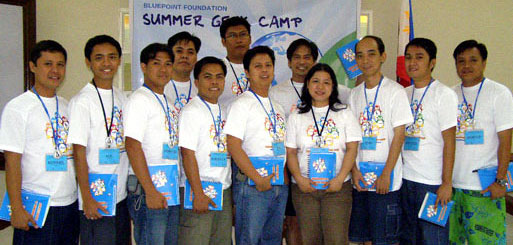 Bluepoint Foundation, in cooperation with Saudi Investment Group and Marketing (
SIGMA
) and Asia Pacific Networking Group (
APNG
), successfully held the 2nd Summer Geek Camp from April 17 to 19, 2009 at the
Loreland Farm Resort
in Antipolo City.
Taking off from the success of our
1st camp
in Tagaytay last year, Summer Geek Camp 2009 was an Enterprise 2.0 boot camp for software developers, system and network administrators, and information managers. It was also a local APNG camp.
Enterprise 2.0

Web 2.0 technologies and techniques like wikis, blogs, tagging, social networks and mashups have entered the workplace - breaking down information boundaries and providing greater collaboration for the enterprise.
Boot Camp

Participants learned the fundamentals of how their organizations can leverage Web 2.0 and Cloud Computing to increase productivity, grow revenues, spur innovation, and lower costs.
Attendees

Senior Technologists including CIOs, CTOs, VPs of technology, IT directors and managers, network and storage managers, network engineers, enterprise architects, communications and networking specialists, directors of infrastructure.
TRACKS
There were 3 working groups: System and Network Administration, Software Development, and Information Management. The use of Open Source tools and technologies were integrated into these learning sessions. Topics covered:
Web 2.0
Software as a Service (SaaS)
Asynchronous JavaScript and XML (AJAX)
Extensible Markup Language (XML)
YAML Ain't a Markup Language (YAML)
JavaScript Object Notation (JSON)
Representational State Transfer (REST)
Simple Object Access Protocol (SOAP)
Xen Virtualization
Cloud Computing
| | |
| --- | --- |
| According to a research whitepaper by IDC, a global provider of market intelligence, instant messaging is set to replace email as the preferred form of business communication by the second half of 2010.Participants learned how to build their own Linux-based, enterprise-grade IM server during the camp. | Cloud Computing allows the low cost deployment of massive amounts of IT resources on demand and in real time.Participants learned how to build their own Linux-based Elastic Compute Cloud in this camp. |
AGENDA
Summer Geek Camp was a community building event. In the spirit of Free and Open Source Software, participants shared resources and took part in activities and the running of the camp.
TIME
DAY 1
DAY 2
DAY 3
07:00
WAKE UP CALL
07:30
BREAKFAST
08:30
MORNING CIRCLE
09:30
TEAM BUILDING
FINAL PRESENTATION
10:30
BREAK
10:45
TECHNICAL SESSION
CLOSING CIRCLE
11:00
11:30
12:00
12:15
LUNCH
13:00
ASSEMBLY
TECHNICAL SESSION
SWIMMING
13:30
ORIENTATION
14:30
15:30
BREAK
15:45
PLENARY SESSION
TECHNICAL SESSION
16:00
17:00
18:00
FREE TIME
19:00
SWIMMING
20:00
DINNER
21:00
EVENING PROGRAM
22:00
VENUE
Antipolo City is approximately 26 kilometers east of Manila. Strategically located along Colaique, the 8-hectare Loreland Farm Resort puts the city's major attractions within easy reach. The Antipolo Cathedral is only 3 kilometers away from the resort, while the Hinulugang Taktak falls is a mere 7 minute drive.
REGISTRATION
Registration fee was only PHP 5,000 (USD 105 or EUR 82) per attendee, inclusive of food (three meals and two snacks daily), accommodations (one bed per person, air conditioned room with cable TV, hot shower and bath tub), and access to the resort's eight theme swimming pools from April 17 to 19. Registrations were accepted until April 13, 2009.