Bluepoint Foundation
, Saudi Investment Group and Marketing (
SIGMA
), and the National Disaster Coordinating Council (
NDCC
) held the Philippine Sahana Initiative (
PSI
) today at the
Discovery Suites
in Ortigas Center.
Sahana
is a Free and Open Source Software (FOSS) Disaster Management System (DMS). It is a web-based collaboration tool that addresses the common coordination problems during a disaster from finding missing people, managing aid, managing volunteers, and tracking camps effectively. Sahana has become the de facto DMS with immense backing from humanitarian and non-government organizations worldwide.
The
Award for Projects of Social Benefit
was given to Sahana by the Free Software Foundation (
FSF
) last March 26, 2007.
In support of the NDCC's program on disaster mitigation, Bluepoint flew in senior Sahana developers
Mifan Careem
and
Ravindra De Silva
from Sri Lanka to provide free training for select participants from every Regional Disaster Coordinating Council (RDCC), NDCC member agencies, and other centers for disaster preparedness throughout the country.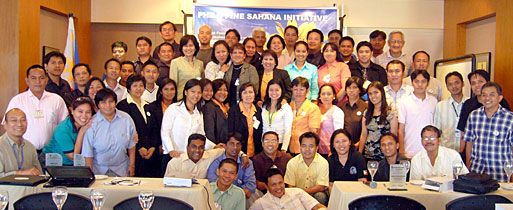 PSI aims to equip participants with the necessary skills for the deployment of Sahana as a centralized, nationwide disaster management system for the efficient coordination of relief efforts during disasters.
The whole-day event was held in coordination with the Office of Civil Defense (
OCD
), NDCC secretariat and lead RDCC organization, under the Department of National Defense (
DND
).
TIME

ACTIVITY

08:30-09:00

Registration

09:00-09:05

Invocation

Sen. Jovito Salonga
Bluepoint Foundation

09:05-09:20

Welcome Remarks

Engels Antonio
Bluepoint Foundation

09:20-09:40

Sahana at Guinsaugon

Dr. Anthony Golez
Deputy Administrator
Office of Civil Defense

09:40-09:45

Introduction

Marie Grace Gaffud-Antonio
Bluepoint Foundation

09:45-12:00

Sahana Disaster Management System

Mifan Careem
Ravindra De Silva
Lanka Software Foundation

12:00-13:00

Lunch

13:00-16:00

Sahana Disaster Management System

Mifan Careem
Ravindra De Silva
Lanka Software Foundation

16:00-16:20

Open Forum

16:20-16:30

Closing Remarks

Eddie Salonga
Bluepoint Foundation
Ravindra De Silva
is a member of the Sahana Core Team and the Sahana Committee. He is a senior Sahana developer, the development lead for Sahana Application Security and Biometrics, and the Sahana Research lead. Ravindra played a significant role in Sahana's deployment for the recent Philippines mudslide response and pre-deployment for Sarvodaya, the largest local NGO in Sri Lanka.

Mifan Careem
has been involved in the development of Sahana for more than two years now, starting from its inception after the South-Asian Tsunami in December 2004. He has contributed in the deployment of Sahana in Pakistan, Philippines, and Indonesia. Mifan also worked closely with Sarvodaya and the International Red Cross in customizing Sahana for the said organizations.
PSI Delegates
came from the OCD, the 17 NDCC regional disaster coordinating councils across the country, and the following organizations:
Government
Armed Forces of the Philippines - Joint Operations Center
Department of Agriculture
Department of Education
Department of Environment and Natural Resources - Mines and Geosciences Bureau
Department of Environment and Natural Resources - National Mapping Resources Information Authority
Department of Health - Health Emergency Management Service
Department of the Interior and Local Government
Department of National Defense - Defense Information Management Office
Department of Public Works and Highways
Department of Science and Technology - Advanced Science and Technology Institute
Department of Social Welfare and Development - National Resource Operations Center
Department of Transportation and Communications
National Economic and Development Authority
Philippine Atmospheric, Geophysical and Astronomical Services Administration
Philippine Institute of Volcanology and Seismology
Philippine National Red Cross
Civil Society
Center for Disaster Preparedness (CDP)
Kabalikat Civic Communicators Association (KABALIKAT CIVICOM)
Radio Emergency Associated Communications Teams (REACT)
MGEN Glenn Rabonza
, OCD Administrator and NDCC Executive Officer, acknowledged Bluepoint's help in the capacity building of the NDCC in terms of developing the skills necessary for the deployment of a centralized, nationwide disaster management system.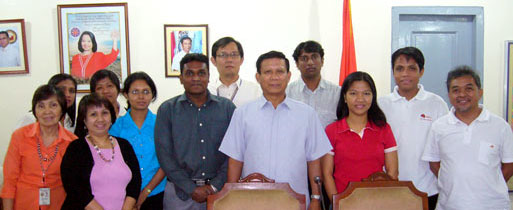 PSI logo
is an "S" (for Sahana) made up of earth (represented by the sunflower, which is also a symbol associated with Sahana) , fire (flame), and water (wave) - elements normally involved in disasters. The color scheme is similar to the Philippine flag's. More about the logo's evolution
here
.
Many thanks
to Rene Enriquez, Mark Mayo, William Yu, Sandra Alarcon-Lovenia, Dr. Alvin Marcelo, Mylene Villegas, and Dr. Renato Solidum Jr. for supporting the Philippine Sahana Initiative.