Open Source software has not only become increasingly mainstream, it has also become a way for companies to gain strategic, competitive advantage over rival organizations.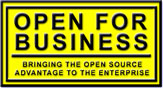 Learn how to leverage the hottest Open Source technologies to help reduce costs, minimize vendor lock-in, and grow your business in this special Bluepoint 7th anniversary event.




While open to the general public, this event will be especially appealing to management - CIOs, CTOs, project managers and others in the decision-making chain - who need to understand the considerations behind business streamlining with Open Source technologies.
BENEFICIARIES
Proceeds will help fund the Teachers Using Linux to Augment the Youth (
TULAY
) project for the following beneficiaries:
TULAY Batch 1 Phase 2
Free Linux and Open Source Training of Public High School Teachers
TULAY Batch 2 Phase 1
Free Linux and Open Source Training of Teachers for the Disabled
PROGRAMME
Due to the indifference of Crowne Plaza Hotel management, the conference will instead be held at the
Richmonde Hotel
, Ortigas Center from 8:30 AM to 7:00 PM.
Master of Ceremonies
Iya Yotoko
Digital Tour
Fondly called the Digital Diva, Iya Yotoko has been covering the tech scene for Digital Tour since it first aired in 2001. Her love for gadgets prods her to keep abreast of the latest trends in digital technology. You are most likely to see her enjoying her favorite music on her ever-present iPod Nano. Iya also works full-time as an events specialist.
Invocation
Sen. Jovito Salonga
Trustee Emeritus, Bluepoint Foundation
We thank You, O Lord, for the opportunity to come to You in this morning hour, believing that if we seek You and your Kingdom of righteousness, first and above all, other things will be added unto us.
You have created and made all things that are dear to us - even the work of our hands and our minds. But forbid it, Lord, that we should fall in love with things, that our roots become too firmly attached to this earth. Give us the courage and the wisdom to simplify our lives.
Forgive us for the pride and the presumption with which we manage our affairs, as though we do not need You, only to realize that when we feel exhausted and tired and helpless, we need You more than ever.
We in Bluepoint have been here for seven years. We pause today to consider what we have achieved from year to year - in terms of providing training, holding educational seminars in various colleges and universities, introducing Linux and Open Source training to schools, government institutions and the business sector.
We bring to You, the source of all goodness, power, and wisdom the memories of whatever we have done in Bluepoint. Teach us to be ever humble in Your presence. Help these relatively young people to know that serving others in the spirit of love is more important than all the things money can buy. Help us all, O God to live and not merely to exist, that we may have joy in our work. In the name of Jesus Christ, our Lord and Savior, who alone can give us hope and faith and love that lend meaning and purpose to our lives. Amen.
QoS, Computer Telephony and Asterisk
Mark Mayo
Instructor, Bluepoint Institute
Abstract
The talk will focus on the infrastructure required to produce toll quality voice for VoIP and similar services. Particular attention will be given to QoS requirements and its corresponding implementation. Signalling and bearer protocols as well as Asterisk will also be touched on.
Target Audience
Network and System Administrators
Call Center IT Personnel
IT Managers
Telco Engineers
Hobbyists
Objectives
At the end of this seminar, the participant will be able to understand traditional telco voice services with VoIP, define network requirements for setting up voice and similar services, understand the difference between signalling and bearer traffic, and create a working VoIP only server.
Outline
Computer Networks
Voice Networks - Requirements
Voice Networks - Voice Characteristics
Data Networks - Requirements
Data Networks - Data Characteristics
Quality of Service in IP Data Networks - Internet Model
Quality of Service in IP Data Networks - Intranet Model
Quality of Service in IP Data Networks - End-to-End QoS Model
Computer Telephony - Signaling: Call Setup and Teardown
Computer Telephony - Bearer: Media Stream
Computer Telephony - Digital Signal Processing
Asterisk - Components
Asterisk - Typical Deployment Scenarios
Asterisk - Examples and Live Demo
Trixbox Practical Open Source Voice-Over-IP
William Yu
Instructor, Ateneo de Manila University
Abstract
This presentation attempts to review some basic VoIP concepts and the available open source VoIP software package in the market. We will then proceed to identify the most commonly sought after features in a VoIP system and identify which components are necessary. After which, a basic VoIP system complete with the features we have identified will be configured using the Trixbox distribution.
Target Audience
Anybody considering implementing VoIP with open source software
Implementors and decision makers
Outline
Quick Overview of VoIP
Landscape of Open Source VoIP Software
Short Discussion: Asterisk
Short Discussion: SER
Short Discussion: Ekiga
Components of a Production VoIP System
Key Components
Minimum Configuration
Enterprise Databases with PostgreSQL
Ryan Baclit
Instructor, Bluepoint Institute
Abstract
There are many enterprise-grade databases available in the market, but IT managers tend to select only from commercial offerings. They fail to see that open source databases are also enterprise-ready, largely due to the marketing muscle of commercial vendors. This seminar will show that open source enterprise relational database management systems can be at par with commercial products, featuring the most advanced open source RDBMS: PostgreSQL.
Target Audience
People looking for an open source enterprise-grade RDBMS as an alternative to commercial and proprietary solutions.
Objectives
At the end of this seminar, participants will be able to appreciate the availability of PostgreSQL. They will be able to install and configure PostgreSQL and do basic replication through Slony-I.
Outline
Introduction to PostgreSQL
PostgreSQL Installation on Linux
PostgreSQL Configuration
PostgreSQL CLI Tools
PostgreSQL GUI Frontends
Programming APIs
Proper PostgreSQL Maintenance
Fundamental Database Level Security Measures
Query Optimization Tricks
High Availability Schemes for PostgreSQL
Slony-I Replication
Large-Scale PHP Implementation
Vip Malixi
Senior Instructor, Bluepoint Institute
Abstract
Large-scale PHP implementation requires certain tools and methodologies not usually needed for smaller scale operations, e.g., template engines, server optimization, OOP, etc. The key is to know when to use these tools and methodologies. A common myth is assuming that at the Enterprise level they are required by default - when in fact doing so may actually be detrimental or of very little value. This lecture describes these tools and methodologies are and the circumstances in which they would be applicable and useful.
Target Audience
System Administrators and Designers
IT and MIS Managers
PHP Programmers
Objectives
At the end of this seminar, participants will be able to be aware of what large-scale implementation PHP
tools and methodologies are available and what circumstances they would be applicable.
Outline
Introduction: What is "Large-Scale PHP Implementation"
Tools and Methodologies for Use in Large-Scale Implementation: Object-Oriented PHP
Tools and Methodologies for Use in Large-Scale Implementation: Template Engines
Tools and Methodologies for Use in Large-Scale Implementation: PHP/Server Optimization
Xen Enterprise Grade Virtualization
Engels Antonio
Chief Instructor, Bluepoint Institute
Abstract
Modern computers are sufficiently powerful to use virtualization - the illusion of many smaller virtual machines, each running a separate operating system instance. This allows the enterprise to maximize hardware investments through virtualization versus additional equipment acquisition.
Target Audience
System Administrators
Network Engineers
Infrastructure and Datacenter Architects
IT and MIS managers
Objectives
At the end of this seminar, participants will be able to understand virtual architecture and deploy Xen for enterprise grade virtualization.
Outline
Virtual Architecture
Platform Setup
Enterprise Deployment
Virtual Machine Migration
EVENT PARTNERS
This conference is made possible thanks to our sponsors:
SUPPORTING ORGANIZATIONS
Many thanks to the following organizations for supporting this special event: