Bluepoint held its first alumni homecoming today at the Kilosbayan House in Mandaluyong City.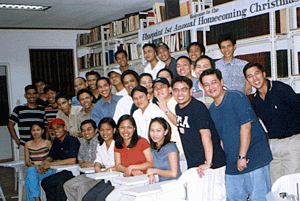 The alumni homecoming and Christmas party was attended by graduates of Bluepoint's Total Linux and Web Development courses. Aside from special numbers by Eddie Salonga and Bluepoint faculty, elections were also held for the alumni association's first set of officers:
President -
Mike Calingasan
(Total Linux 8)
Vice-President -
Leyo Magpayo
(Total Linux 10)
Secretary -
Arvin San Andres
(Total Linux 3)
Treasurer -
Carlos Yu
(Total Linux 11)
There was food a-plenty as everyone contributed to the potluck-style party. An Open Source-biased Win-Lose-Or-Draw game was led by Magie Antonio. Representatives from Total Linux 8 and 10 teamed up to win the cool Bluepoint mugs up for grabs. Engels Antonio announced the Bluepoint-Red Hat partnership in his closing remarks.